Somalia Micro-Nutrient Study
---
Issued: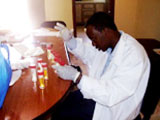 FSNAU is delighted to announce the launch the results of the Somalia, National Micronutrient and Malnutrition Study on Thurs May 6th 11-12pm in the FSNAU conference room in Nairobi. This study was conducted in collaboration with UNICEF, WHO, WFP and under the technical leadership of The Institute of Child Health, University of London and is the first of its kind ever to be conducted in Somalia. The objectives of the study were primarily to determine the public health significance of Vitamin A, Iodine and Iron deficiencies in vulnerable groups in the population. Three separate surveys were conducted in Somaliland, Puntland and South Central from March to July 2009.
Somalia's Micronutrient Status
Somalia is in a chronic nutrition crisis with rates of acute and chronic malnutrition consistently exceeding emergency thresholds in some areas over prolonged periods. High rates of morbidity are thought to be the major driving force behind these persistently high rates of malnutrition. The situation is facilitated by low immunization coverage rates and exacerbated by periods of food shortage, and limited basic social services. Anecdotal evidence has identified cases of anaemia, vitamin A deficiency and iodine deficiency at community level however the availability of prevalence data to determine the public health significance of the main micronutrient deficiency disorders in Somalia is sadly lacking.
The only available information on micronutrient deficiencies is on anaemia in children 6-59 months from Somaliland in 2001, where a study conducted by UNICEF and the Ministry of Health and Labour (MoHL) identified 59.5% of children as anaemic, from a sample of 784 children drawn from 30 clusters and tested using the HemoCue (18.3% mild anaemia, 33.2% moderate anaemia and 8% severe anaemia).
In the 2006 MICS, UNICEF identified that only 1.2% of households were using iodised salt nationally, and there was only 24% coverage of Vitamin A capsule distribution in children under-five years. This information, though limited, highlights the elevated risks of vitamin A, iodine and iron deficiency in Somalia.
With such an adverse nutrition situation, an understanding of the public health significance of micronutrient malnutrition was essential to explore the potential contributions of these deficiencies to the overall crisis. Unfortunately, in spite of a significant amount of nutrition information available, there was a lack of representative data available on micronutrient deficiencies both regionally and nationally. Providing this information was considered essential to enabling a detailed understanding of the underlying causes and the development of an appropriate response to tackle the health, nutrition and food security crisis.
In response to this situation, the FSNAU (Food Security and Nutrition Analysis Unit) in collaboration with UNICEF, WFP (World Food Program), WHO (World Health Organisation), Ministry of Heath authorities and CIHD (Centre for International Heath and Development) initiated a national micronutrient survey in 2009.
The selection of the micronutrients to be included in the study was based on the likelihood of finding deficiency, the public health significance, and the practical issues involved in collecting and measuring biological samples. The study focussed on iron, vitamin A and iodine for the reasons outlined briefly below.
Iron is important for both the physical and cognitive development of children and low iron levels may impair child development as well as adult productivity. Within Somalia it is generally assumed that poor diet quality, as well as dependence on long term food aid coupled with cultural food consumption practices is likely to result in poor intake of iron and low bio-availability. In addition to iron deficiency, prevalent infections in Somalia, including malaria, may be major causes of anaemia.
Vitamin A is required for vision and immunity and a deficiency is associated with xerophthalmia and elevated child mortality. The limited availability and consumption of fruits in larger parts of Somalia is thought to be one factor that contributes to a low absorption of pro-vitamin A carotenoids and places the population at risk of deficiency.
Iodine deficiency results in insufficient thyroid hormone production which is important for the regulation of body metabolism and normal brain development. Deficiency can have disastrous impacts on child development and adolescent and adult health. Due to the low coverage of salt iodisation it was assumed that the population of Somalia would be at risk of iodine deficiency.
Findings from the 2009 Micronutrients Study show that:-
The overall prevalence of anemia was 59.3% (54.8-63.6) and of serious public health concern.
Overall, Vitamin A deficiency in the 6-50 months age group was 33.3%, with all strata showing values exceeding the WHO threshold of above 20% which classifies the prevalence of Vitamin A as severe.
Household salt iodine utilization was low at 3.9% for the combined strata.
Over 50% of the assessed non pregnant women had urinary iodine concentration that was either more than adequate, or excessive. On the other hand, a lower percentage of the women were in the lower extreme indicating deficiency. Based on the high urinary content and low coverage of iodized salt, further research on the sources of iodine was recommended.
To download the full report, click here (pdf, 1.06MB).
This report describes the findings of the National Micronutrient Malnutrition Survey conducted in Somalia between the months of March to August 2009. It discusses the public health significance of the data on the micronutrient status of the population and provides recommendations for the development of an appropriate and evidence-based response strategy to help manage the ongoing nutrition crisis.